So many of us are second and third generation Americans whose ancestors came here in the great waves of immigration in the late 1800's and early 1900's. We've told ourselves a polite fiction that they came here with several things in mind:
They became citizens right away.
They learned English
They learned to read and write
They committed no crimes
They were welcomed as hard working
Check your history on census records
This is so easy on Ancestry.com FamilySearch and similar services.  Here's what I learned:
The Italians
Several of my Italian ancestors never became citizens.
The women, who were mostly tasked with raising children, never learned English
A whole branch, as my mother embarrassingly told me, stole from their relatives who didn't go to the authorities for fear of deportation
They arrived between 1910 and 1914

By 1940 the purchased their first homes after years of apartments
By 1950 many were middle management training top management, but could advance no further because they had only high school at best educations. Again..THEY TRAINED the managers. No accommodation for life experience.
By 1960's their children graduate from college

[youtube https://www.youtube.com/watch?v=EPolqp1sIpU]
The Irish
Arrived between 1860 and 1880
None could read or write
Only one of these eventually learned to read or write. It took him twenty years to do this.
[youtube https://www.youtube.com/watch?v=SI1Yp7fs8A4]
One died of tuberculosis leaving an illiterate widow and 5 children under 6

Within two years the illiterate widow died of alcoholic neurois orphaning her children
The children were raised in an orphanage. At 18 the girls left and each married a man significantly older. The boys all joined the armed forces.
In the 1930's one of these boys was widowed and sent his kids to the same orphanage
 No family member stepped up to take in a single child

Another branch worked various low wage jobs moving every few years

The supplemented their income by making illegal alcohol and transporting it during prohibition

By the 1960's over 100 years after they first arrived, there was a college graduate.
All were devout Catholics
Catholics were seen as ignorant, idol worshiping lowlifes.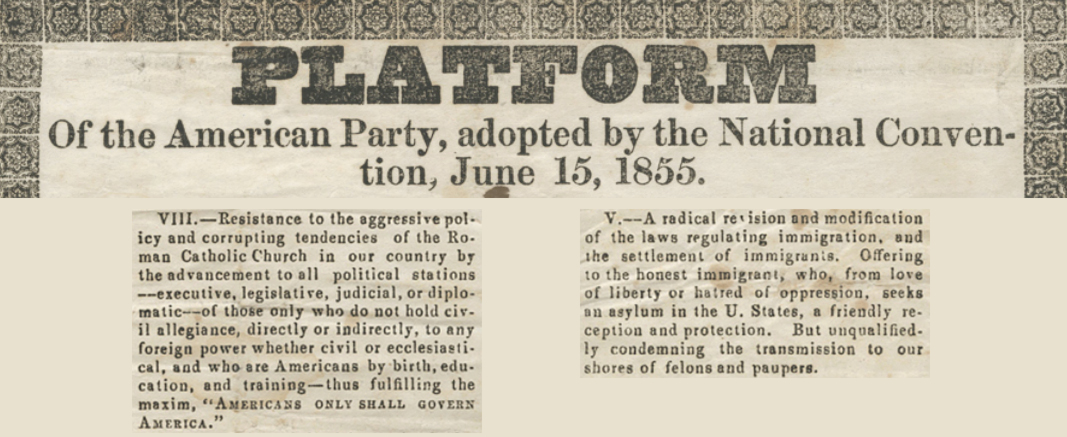 The reality is that all of our history's are marred. No one was perfect, but we made it to success because of the immigrants who dreamed. They fled lands of no opportunity where their children would face death or worse. Today's immigrants are no different in their desire or the bigotry they face.